Some things you can do to deal with the stress you are feeling after sheltering in place during the Covid-19 emergency.
1. Consider adding a "Forest Bathing" experience into your daily life.
It does not have to be in an actual forest- as you can go to any green
space, your backyard, a lake, pond, etc. Even a green strip of grass
will work. One of the safest places to be is outdoors. The Japanese
have done research on how healing the outdoors is for the human body,
including the immune system (Forest Bathing; The Japanese Art and Science
of Shinrin-Yokku., Dr. Qing Li Viking Press., 2018).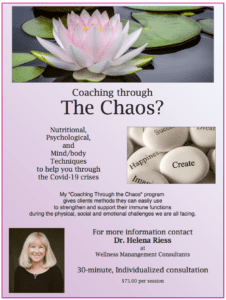 2. Add a meditation, quieting time, prayer session 1-2X a day.
Give yourself at least 5-10 minutes to just breathe gently into your belly.
Just four slow deep breaths in and hold and then four slow deep
breaths out is all it takes. Children usually enjoy the experience as well. And many
have experienced Yoga in their schools or communities and are
more open to adding this to family life at home.
3. Many individuals in our country have experienced traumatic events in
their lives and this event may be triggering some of those feelings again.
There are many techniques that we can all do in the privacy of our homes.
One of my favorites is similar to EMDR, which is a technique that
psychologists and therapists have been using effectively for almost
thirty years, to reduce trauma, anxiety, and tension. A home version I
recommend to my clients can be found on the Internet. It is simple, only takes a few minutes and can lead to a decrease in anxiety, tension, stress etc. relatively quickly.
(Jim Dovonan., StopWatchTapTechnique., YouTube., November 29th 2014. Jim
is a professional, a musician, and a TEDx Presentator).
4. Another excellent resource to consider during this challenging time
is a site devoted to relaxing and balancing sounds. Researchers around the world have discovered that certain sounds and frequencies have relaxing and balancing effects. ZenLifeRelax (the frequency of 528 is best for anxiety etc) can be found on the internet and is a free resource. I recommend individuals play the sounds on
their devices, at a low level all day. Many of the frequencies can induce some noticeable stress-reducing effects for everyone in the home-including cats and dogs.
5. Consider adding candles and or/essential oils to your home
environment. We are now recommending specific Immune Supporting Candles
and Essential Oils to many of our patients.
Resources include:
• Young Living: Thieves Oil
• Do Terra: On Guard
• Flora Copeia: Legends
• Vibrant Blue Oils: Parasympathetic – to rebalance our Nervous system
especially the parasympathetic aspect.
Candles:
Boku (Bokusuperfood.com: Personal Immune Candle with Thieves Blend).
Himalayan Salt Candles or Lights (saltcavessb.com).
6. If you are close to an actual Himalayan Salt Cave (check availability
in your area), the experience itself can be very healing for the lungs.
This is a gentle but powerful experience for individuals who want to work
at a deeper level to ensure the health and vitality of the lungs-as this
Covid-19 appears to be partially a lower respiratory virus. The two Salt
Caves that we have vetted are in San Barbara and San Francisco,
California. The experience is deeply relaxing and has been used for
centuries in Europe to assist in lung health.
. Breathe Salt Yoga, San Francisco,
. Saltcavesb.com. Santa Barbara
7. Another excellent technique to reduce overall stress and anxiety
responses is EFT (The Emotional Freedom Technique). The tapping
technique can also be found on the internet and is used by Psychologists
and mental health professionals all over the world. Even children
can safety use the tapping process without much training.
8. At this challenging time, laughter is very important-especially Belly Laughing. Take time each day to share funny stories and watch funny movies together with your family and loved ones. Better to decrease media exposure and focus on balance and harmony and love.
9. Reduce caffeine and stimulant consumption as best as you can. Green
tea contains L-Theanine and is relatively low in caffeine. Of course,
small amounts of chocolate during this time are certainly appropriate and
even helpful.
10. And last- but very importantly: Prioritize Sleep, as it is one of the
most important aspects of staying healthy and increasing immune function.
We need sleep to help clear toxins from our body and even our brains.
So set a new goal from this day forward-Plan to go to bed between 10-11
and think of the sleeping process as a Reset for your Health and Vitality.